What is Email Marketing?
Email marketing is the act of sending promotional messages to people in mass quantities. It typically is to generate sales or leads and it may contain advertising.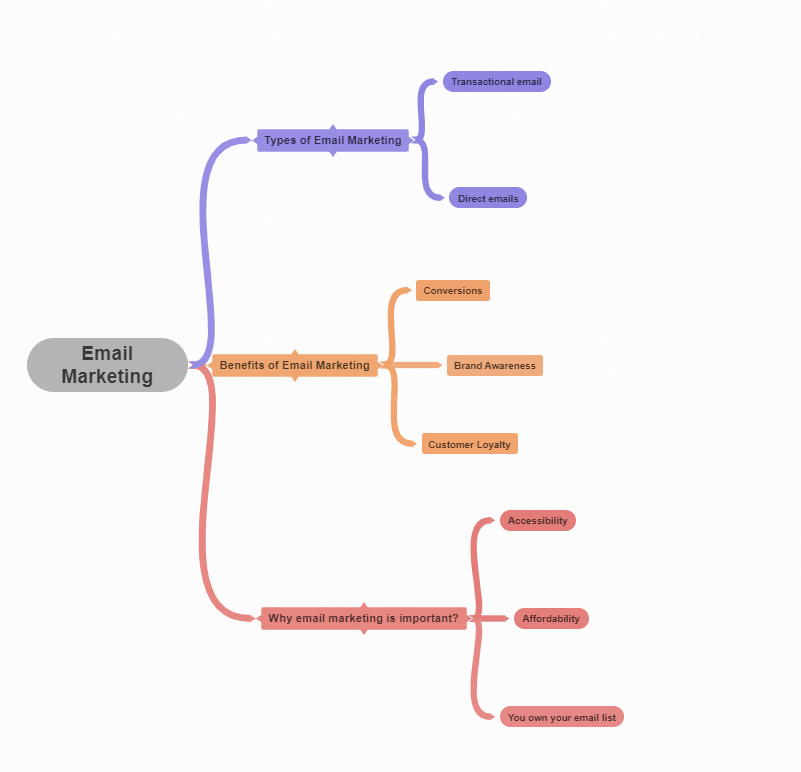 Types of Email Marketing
Email marketing can be carried out through different types of emails: Only 2,
1) Transactional email:
A transactional email is one that facilitates a commercial transaction or relationship or provides an update about an ongoing commercial transaction. Common examples include Order confirmation.
2) Direct emails:
Direct marketing is a form of communicating an offer, where organizations communicate directly to customers and supply a method for a direct response.
Direct email involves sending an email solely to communicate a promotional message (for example, a special offer or a product catalog). Companies usually collect a list of customer or prospect email addresses to send direct promotional messages to, or they rent a list of email addresses from service companies.
The Benefits of Email Marketing
Email marketing will help fulfill 3 key objectives:
1) Conversions:
Selling your products & products.
Launching a sale or promotion? You can send an email marketing campaign to your subscribers to drive sales.
Other email marketing techniques known to increase conversion rates include:
Emailing a discount or special offer (birthday/anniversary emails, welcome emails, re-engagement emails)
Abandoned cart emails (triggered whenever a visitor abandons a cart at your online store)
2) Brand Awareness:
And besides, people don't just let anyone into their inbox these days. It's a curated space reserved for favorite brands and publications.
Showing up in someone's email inbox will help your brand stay top of mind. A personalized marketing email is more impactful than a social media post where you can't be sure if someone has actually seen your message.
3) Customer Loyalty:
Customer loyalty is the act of choosing one company's products and services consistently over its competitors. When a customer is loyal to one company, they aren't easily swayed by price or availability. They would rather pay more and ensure the same quality service and product they know and love.
Why email marketing is important?
1) Accessibility:
Email is accessible to all age groups. It opens the door to a wide range of audiences — even the least digitally savvy among us.
We might live in the digital age but not everyone is that comfortable using the internet. However, most people do know how to check their email. This makes it the most mainstream form of marketing.
2) Affordability:
Email marketing is extremely cost-effective. Most email marketing tools offer pricing packages to suit all budgets. In reality, the barrier to entry has never been so low.
These are ideal for first-time email marketers who want to get a hang of the software before purchasing. With nothing to lose, there's no excuse not to give it a go.
3) You own your email list:
Wherever your audience is, you'll still have a direct line of contact with the people who are most interested in your brand. And the intimacy of email as a one-to-one channel will bring you even closer to that audience. Think about it: Your social media could disappear in the morning and take all your followers with it. You'd be left with nothing. But therein lies the beauty of an email list — it's yours.
Conclusion
Email marketing delivers huge returns for marketers willing to learn how to do it right. It doesn't have to be too complicated.
First, remember that you are a guest in your subscribers' inboxes. Your emails are always a click away from losing interest forever. Be polite, respectful, and appreciated.
First, you will need to ask permission. Of course, this is correct. In an era of new data protection measures such as the EU GDPR, this is also a legal requirement.
Email is still more powerful than any other platform like Facebook or Twitter. It just works great and makes a lot of profit. The only thing you need to learn is how to effectively use it to achieve the results you want and reap the benefits of email marketing. Just take the time to learn the basics of email marketing and implement it in your business for growth and success.
You will want to keep your promises. Tell people what they asked for and send emails regularly to meet their expectations.
Finally, you can move on to email segmentation and analytics once you've mastered the basics. Start sending specific types of emails to different groups of people so you can deliver more useful emails. Email marketing is a powerful way to connect with people and a very personal way to reach your target customers.